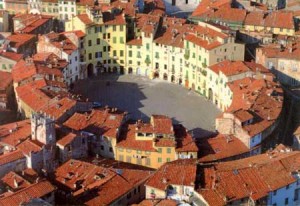 A monumental city still surrounded by walls intact, preserving a unique, Lucca, between the city-states of Tuscany, is the only one to have retained its independence until 1847. Evidence of the loving care with which the patricians Lucchese has defended the freedom of the "Civitas", prejudice its intact walls (XVI-XVII c.), The scope of Km 4250, with 10 bastions, and the terraces in the preserved.
Travel is the frivolous part in people's lives series, and the serious part in people's lives frivolous.
Anne Sophie Swetchine
, Morceaux Choisis, 1862
The real voyage of discovery consists not in seeking new landscapes, but in having new eyes.
Marcel Proust, In Search of Lost Time, 1913/27
In the medieval walled city-emerge the monuments of art and history of various ages, such as the Roman Amphitheatre, the Basilica of San Frediano, the square and the Church of St. Michael, the Cathedral of San Martino with Holy Face and the tomb of Ilaria del Carretto sculpted by Jacopo della Quercia, the Guinigi tower, via Fillungo, the Doge's Palace in Piazza Napoleone, last evidences of the Principality of Lucca.
The historical city center of the city is then remained almost intact in its original form, and therefore can include a variety of architectural concepts, as many medieval churches of great architectural richness (Lucca has even been nicknamed the "city of 100 churches", because of the presence of numerous churches in the old town, consecrated and not present in the past and now in the city), and bell towers, Renaissance palaces and monuments of excellent linearity style.
The city also boasts beautiful urban spaces: the most famous is surely to the square of the amphitheater, built on the ruins of the Roman amphitheater by the architect Lorenzo Nottolini and unique architecture.
Main thoroughfare of the historic city is the narrow medieval street Fillungo, which brings together the largest shops in the city with proposals shopping for all tastes and all budgets.