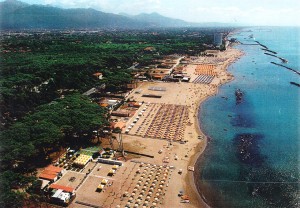 A coast all its own: fine sandy beaches just a short distance from the rock of the Apuan Alps, the majestic mountains of marble. The result is a charming waterfront by the formula: sweet relaxing days on the sea, with numerous beaches, alternating with trips to the amazing wonders of the mountain.
A beautiful sandy coast, 20 km long, equipped with bathing quality, with plenty of nautical centers to devote to traditional sea sports: sailing, windsurfing first.
The kitchen is equally rich, tasty soups from fresh fish with lard, a dish that made history in the caves, enjoy a glass of Candia or a Vermentino. La Costa Apuana, an area multi-faceted and special features that will make your stay unique and unforgettable.
The more intense life is told in brief by the most primitive sound: the wave of the sea that once it shapes it changes in every moment.
Italo Svevo
, da "Confessions of Zeno"There is a spectacle grater than the sea, and it is the sky; there is a spectacle grander than the sky, and it is the inside of a soul.
Victor Hugo
Facing the sea, happiness is a simple idea.
Jean-Claude Izzo
, Chourmo, 1996
The sea creates a nostalgia impossible to eradicate. The sea saw you inside.
Stephen Littleword
Marina di Carrara, with its Nautical Club of considerable tourist interest, has been breeding ground for champions who have distinguished themselves on the race courses around the world such as Luca Santella, brothers Paolo Bottari Chieffi. Of remarkable beauty of the urban square Menconi, completely paved in marble with a beautiful fountain.
Marina di Massa, already famous in the early twentieth century, became the seat of some aristocratic villas, built according to the Art Nouveau style then in vogue. Among the most significant are remembered Villa Corsi, Villa Doria and Villa Franca. During the same period rose to accommodate bathers the historic Hotel Italy. Piazza Bad Kissingen offers tourists the beautiful marble monument Le Vele made a sketch of Peter Castagna.
Cinquale Montignoso, known resort of Versilia, always attracted famous personalities and artists of all time, like Enrico Pea, Gabriele D'Annunzio and painters such as Carlo Carra and Mino Maccari who lived here and found inspiration. The little port, home to over two hundred berths, offers a beautiful view of the mountains of the Apuan Alps. On the waterfront monument to the Gothic Line remembers the bloody battles of the Second World War. Following the course of the river Versilia you reach the nature reserve of Lake Port, a coastal wetland of great interest WWF and Legambiente.